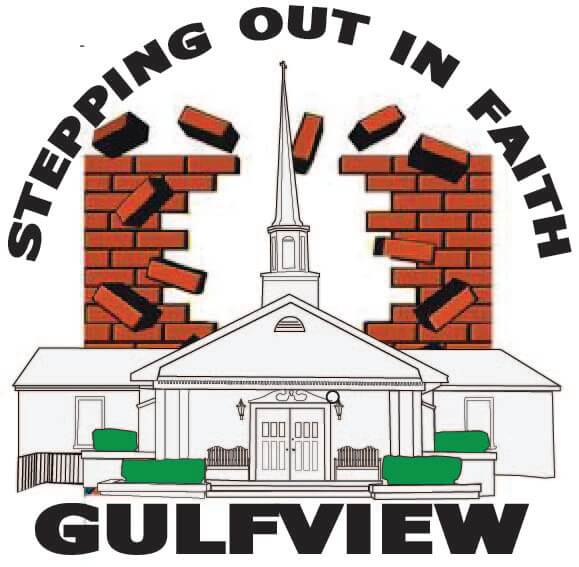 Stepping Out in Faith
At Gulfview, we're trying to move closer to God, fulfilling His plans that He has placed on our hearts of continuing ministry. This includes a Stepping Out in Faith financial campaign this month to create an outdoor worship space, our Legacy Pavilion, at a cost of $100,000. More information in February Worship.
Timeline
Jan. 29 – Strategically Small Church – Part 1: Matthew 5: 1-12 – Small, intimate, and perfectly equipped to glorify God.
Feb. 2 – Invitations mailed out to Stepping Out in Faith Luncheon scheduled for Feb. 26 (if you have not received an invitation and would like one, please contact the church office).
Feb. 5 – 10 a.m. Worship: Strategically Small Church – Part 2: Matthew 5: 13-20 – Nimble: Dancing gracefully to the music of who we are . . .
Feb. 12 – 10 a.m. Worship: Strategically Small Church – Part 3: Philippians 2: 3-4 – What's next?
Feb. 19 – 10 a.m. Worship: Strategically Small Church – Part 4: 1 Corinthians 3: 1-9 Stepping out in faith as an authentic body of Christ
Feb. 20 – RSVPs due to church office for Feb. 26 catered luncheon
Feb. 26 – 10 a.m. Worship: Strategically Small Church – Part 5: Matthew 25: 14-30 – Being effective servants of what we've been given
Luncheon – 11:30 a.m. (tent on proposed site of Legacy Pavilion)
March 15 – Date for submitting Stepping Out in Faith pledge cards
August 27 — Groundbreaking for pavilion construction
Legacy Pavilion
Cost: $100,000
Location: North side of church grounds (marked by PVC pipes)
Size: 30' by 60'
Potential uses: Contemporary worship services, Christian movie nights, concerts, neighborhood Vacation Bible School, Farmer's Markets, family reunions, Back to School Bashes, Trunk or Treats, etc.
Other potential expenses associated with Pavilion: Geo-Grid overflow parking, fans, sound system, movie screen, outside storage, sports applications, etc.
"One generation shall commend your works to another, and shall declare your mighty acts." Psalm 145.4
November 1956 was the laying of the cornerstone. Dinner on the grounds followed. The cornerstone is located if facing the church on the left front.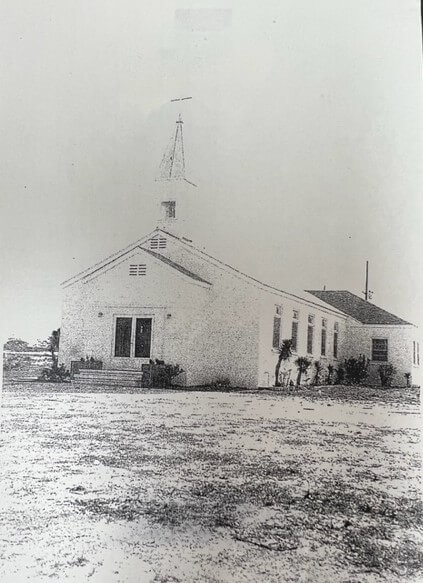 February 12, 1956 was the first day of Worship in the Church Building at Gulfview UMC.
Gulfview's Start
During the church construction, services were held at Bells Cottages and at Lahans' large pavilion used for community affairs. This was located where "The Carousel" now stands. The church was completed in 1956.
Linwood Lewis was the first pastor of the church. He was a Methodist student at Huntington College in Montgomery, Alabama and would arrive on Friday evenings. He completed his ministry as Director at Blue Lake.
The dedication of the church and a mortgage burning was celebrated in 1962. Rev. James C. Brown was the pastor. The women blessed the service with a dinner for all.
The first parsonage was built on Oleander Drive in 1957-58 by the members of the church. Further building programs included: adding a North and South Chapel in 1988-89; the present parsonage on Nancy Drive in 1994-95; the Mathison Education Annex in 1997-98.
Rev. Jim Fillingim, 1995-2001, was the first pastor to occupy the new parsonage, and was pastor during construction of the educational annex building. The annex was built in honor of Rev. Si Mathison and in loving memory of his wife, "Miss Mary".
Legacy Pavilion Groundbreaking
August 27, 2023
Gulfview celebrated a big day on August 27, 2023.
Much prayer and hard work in the last two years resulted in our ground-breaking ceremony for our Legacy Pavilion. Building permits have been submitted, and construction is set to start the
beginning of September.
So many of you "Stepped Out in Faith" with
donations to make this possible. Thank you.
Church Council Chair Jo Ann Stone, Financial Chair Jack Kennedy, and I headed outside to turn over some dirt with fancy painted gold shovels after the completion of worship.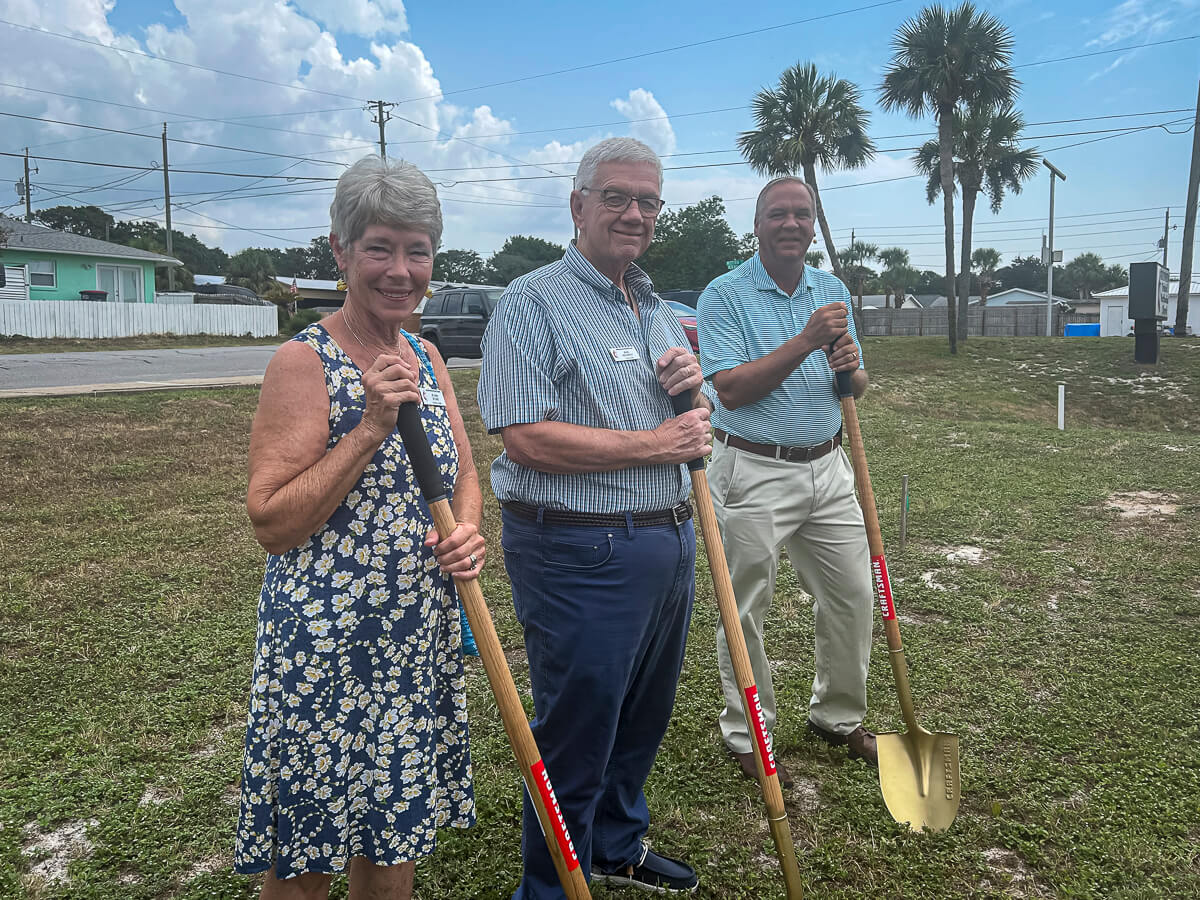 We sang: "Sanctuary" … "Lord, prepare me to be a sanctuary, pure and holy, tried and true, with thanksgiving, I'll be a living sanctuary for you …"
This is our holy ground dedicated for God's glory. I pray in the years to come, God's glory shines through what takes place there.
Pastor Brad Zimanek, September 2023
Legacy Pavilion Kickoff Luncheon
An elegant luncheon was enjoyed on the site of the future Legacy Pavilion February 26, 2023.