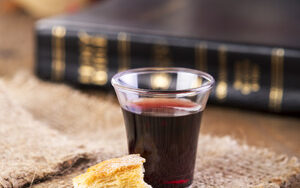 Hi everyone,
As the weather starts to warm up and the vaccine opportunities are suddenly becoming more numerous, we are starting to look at more ministries and fellowship events. For now we are still observing strict CDC protocols but as more of us acquire immunity we can schedule more activity. If you haven't received your vaccination yet, please get your name on one or more waiting lists so you can get it at the earliest opportunity.
This Sunday is Holy Communion Sunday. If you are watching from home, please have a beverage and some bread or crackers nearby so you can also partake in this blessed sacrament. Holy Communion for April will be served only on Maundy Thursday, April 1st. More details on that Communion to follow.
Monday, the 8th, at 1:00 p.m. the United Methodist Women will be holding their monthly meeting in the Fellowship Hall. Martha Roberts will be showing a film called, "A Call to Prayer and Self Denial". This is especially fitting for the Season of Lent. For more information, contact Kathy Hardy.
This past week we lost Barb Jones, one of our long time members. Barb was so faithful to Gulfview and so supportive of the leadership and we will miss her very much. Her suffering is over and ours must go on a little while longer. We will meet again some day.
Last Sunday we had a snowbird named, Bill, minister to us with his beautiful voice. We are asking everyone to help us find folks with singing or playing talent who would be willing to minister to us on Sunday mornings. If you or someone you know of might be interested please contact the Church Office.
We are nearing the end of our isolation ordeal and I would encourage you to get outside and bathe in the sunshine. That good 'ol Vitamin D production is so important especially now. May God bless you all with an extra helping of faith and security.
Love,
Pastor John